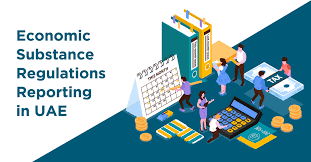 To ensure tax transparency and fair tax competition in the UAE, the UAE promulgated "Economic Substance Regulations" (ESR) in 2019. As a result, business activity that comes under the scope of this regulation should comply with the said regulation. 
Who should comply with the regulation?
The ESR applies to any business licensee (natural or legal person) that carries out any of the defined Relevant Activities listed below in the UAE by way of  LLC, partnerships, branches or organizations. 
The Regulation identifies nine Relevant Activities:
Banking Businesses

Insurance Businesses

Investment Fund Management

Lease-Finance Businesses

Headquarters Businesses

Shipping Businesses

Holding Company Businesses

Intellectual Property Businesses

Distribution and Service Center Businesses
Ministry of Finance states that regulation covers the entire active and passive income generator who receives income from the Relevant Activities.
What should Business Licensee do?
Licensee that earns income from the Relevant Activities within the financial period must satisfy the Economic Substance Test and file an Economic Substance Report within 12 months from the end of the relevant financial period.
Licensee not generating income from the Relevant Activities within the financial period is exempted from submitting Economic Substance Report. However, it is required to submit an annual notification form to the relevant authority within 6 months from the end of the relevant financial period.  
Financial Year: 1st January-31st December
Failure to Compliance
Failing to meet the Economic Substance Report carries an administrative penalty of AED 50,000.00. And a fine of AED 20,000.00 for failure to submit a notification form within the time specified. 
Failure to comply with the regulations may also be subject to further sanctions such as suspension, revocation of trade license.
Where to file?
Submission can be made through the Ministry of Financial online portal Licensee should take necessary steps to ensure compliance. 
What we can do?
Compliance with the regulations is must for the business licensee operating in UAE. As a leading firm in the region, we will assist you in following ways: 
Carryout assessment to determine the application of the given rules in your business 

Assessment of Economic Substance Test

Timely submission of Economic Substance Report and Notification Form
Contact us for further assistance.