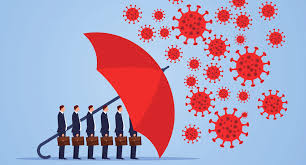 The COVID-19 crept up on the world and is lingering longer than was anticipated. Is there light at the end of the tunnel and what do businesses need to do to stay productive and relevant in this "new normal" era? Many businesses have had to downsize and some have collapsed as a result of the Covid-19 effect as the dynamics of running your businesses during and after the pandemic has been and will be significantly altered in order to succeed.
In certain climes, the expertise of project managers and business analysts has been employed to keep businesses running.  What does this entail?
Project management: This is the process of planning, organizing and managing the activities of a business in order to successfully complete a project or the set goals of a business.
Project management involves developing a project plan, which entails defining and confirming the project goals and objectives, identifying the tasks, the execution and quantifying the resources needed by determining the budget and timeline for completion. It also includes managing the implementation of the project plan, along with operating regular 'controls' to ensure that there is accurate and objective information on 'performance' relative to the plan as well as the mechanisms to implement recovery actions where necessary.
Projects often follow certain major phases or stages, for example; as defined by Kevin Lonergan, this includes feasibility, definition, planning, implementation, evaluation, and realization.
Business Analysis: This is the practice of enabling change in the creation of a business by defining the needs and recommending solutions that will deliver value to stakeholders such as identifying challenges that will stimulate business growth or failure.
The Business Analyst is an agent of change and a professional in developing a disciplined approach for introducing and managing changes to businesses at all levels either non-government organizations, enterprises or limited liability companies and public companies.
Our team of experts can help you identify and define the solutions that will maximize the value delivered by a business to its stakeholders, working across all levels of businesses and getting started from defining strategy, creating the business architecture, taking a leadership role by defining the goals and requirements for programs and projects and supporting continuous improvement in its business transactions and processes that suit the present peculiar situation locally and across the globe.
We ultimately aim to help you set up and improve your business by guiding and leading your business through the unknown or unmapped territory, to get it to its desired destination. Our value is the realization of benefits, cost-effectiveness, identification of new opportunities, understanding of required capabilities and modeling the non-profit and profitable organization.
Contact Us for all your requirements concerning your Business Restructuring Post Covid-19.