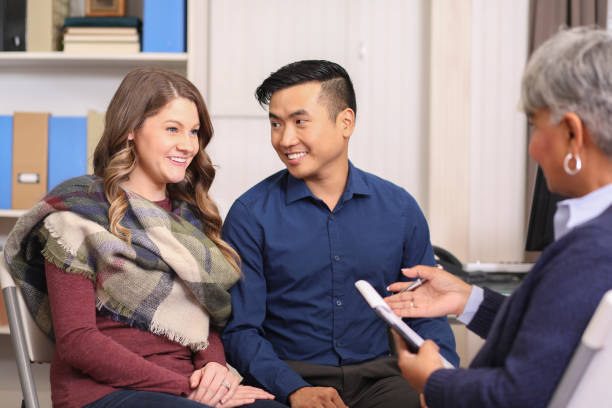 Marriage counselling services and couples therapy are two terms often mistaken for each other. This is due to their similarities. Yet, they do not mean the same thing. 
Marriage counselling deals with the present happenings in a marriage. It helps to restore normalcy when there is a crisis. A counsellor provides conflict resolution services.
Couples therapy also deals with present challenges in a marriage. But, it investigates past incidents. 
Therapy identifies unhealthy patterns that may have caused issues in the marriage. It also seeks the root cause of the problem and suggests possible ways to manage the situation. 
Marital issues and differences are best handled by a qualified therapist. It is usual to see couples go for marriage counselling before their wedding.
The aim of this is to prepare them for the possible challenges ahead. It is also not strange to find already married couples in marriage counselling.
Why Couples Need Marriage Counselling and Couples Therapy
A study conducted in 2018 reported that the number of divorce cases in the UAE was about 4,510. This is higher than the 4,400 cases reported in 2017.
It shows a steady rise in divorce cases and calls for urgent intervention. Some of the causes of marriage breakdown are infidelity, infertility, and anger.
Others are cultural differences, mental conditions, retirement, and communication issues. Discussing these problems in sessions with a therapist or counsellor helps improve relations.
Counselling also equips the couple with skills that will make the marriage work. It also helps them maintain a healthy relationship.
Some of the skills taught in counselling are communication and conflict resolution techniques. This has proven to be a lifeline for many marriages.
Sharing these issues with a third-party is not easy. This is why the counsellor or therapist should act as an unbiased mediator.
How to Get the Best Marriage Counselling Services & Couple's Therapy In The UAE
With the high rate of divorces in the UAE, it may seem that it is getting more difficult for couples to stay in the marriage. Regardless, there are still lots of happy marriages. For such healthy marriages, couples may seek the services of marriage counsellors or couple therapists.
Finding standard experts in handling marital issues is tricky. You can use the following tips to make it a success. 
#1. Start The Search
There are different ways you could embark on a search for a marriage counseling service provider. Lots of couples resort to asking family and friends for help.  
However, Internet-savvy couples would rather use the internet or yellow pages to check out firms that offer legal services in Dubai. This is because some legal services providers in the UAE also offer marriage counsellor services.
#2. Check Their Qualification
Marriage counselling services is not about having a big office or dressing well. It's also not advisable to choose a marriage counsellor simply because he/she has been married for many years without divorce.
Inasmuch as marriage experience is important, it's not the primary criteria for qualification. What makes a firm or person a good fit as a marriage counsellor or couple therapy is their level of professional training.
Confirm they've got the right papers and certificates that authorise them to counsel you. Also, feel free to ask their level of experience in the profession and check online for their clients' reviews.
#3. Similar Belief System
Most marriages in Dubai or the UAE at large are founded first on religion and belief systems. As such, you may not get the best service if you hire the marriage counselling services of a firm that don't share the same belief system with you.
Knowing the sensitivity of the matter, some legal services firms in Dubai have different marriage counsellors on their list. The counsellors and therapists have varying cultural backgrounds and belief systems to best suit different arrays of clients. 
#4. Neutral and Unbiased
It doesn't matter which of the couple called the counsellor or couple therapist. As long as the person is a professional, he/she ought to be unbiased and neutral. 
Siding one person is a bad idea and won't give the desired results. This is another reason why it's advised you work with trusted legal services providers in the UAE for the best marriage counselling services. They know the rule of the game and stick by it without fear or favour.
Conclusion
If you desire to share some marriage related issues with someone, feel free to contact us now for a FREE consultation. Also, don't forget to use the comment section to share your opinions and questions.